Despite a growing variety of high-tech communications tools, fax remains mission-critical for many industries.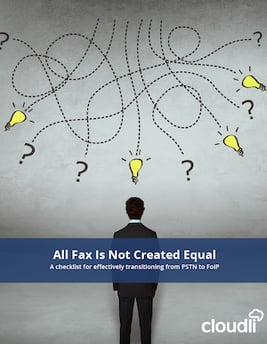 What's In the eBook?
As organizations switch their fax connections from legacy PSTN phone lines to IP, they often encounter several challenges that compromise their workflows, business processes and data privacy. If you're ready to give Fax over Internet protocol (FoIP) a try - but want to avoid some of the common pitfalls many organizations encounter in the transition - read this eBook to learn what to look for in a vendor to make sure you get the best product and service to meet your needs.
You will learn:
The different types of FoIP technologies available on the market

How to determine which technology best meets your needs

The enhanced benefits of FoIP versus legacy technologies